George W. Collins, (October 14, 1925 - July 31, 2014)
A Pioneer Journalist in Print, Television and Radio
THE GEORGE W. COLLINS JOURNALISM SCHOLARSHIP
The Collins Family is pleased to honor the legacy of this great man with a $1,000 scholarship to be awarded annually to a student pursuing a communications degree at Morgan State University.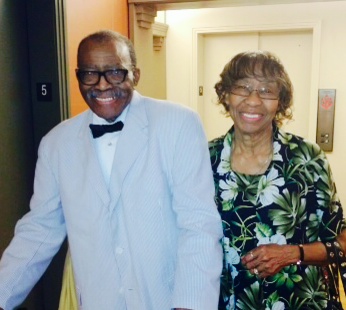 George W. Collins left an indelible mark on the industry and the community at large. His passing, at 88 years of age, ended a journey that began in Bennettsville, South Carolina. He was a twin and the fourth of 10 children born to the late Bishop W. C. Collins and Mrs. Elizabeth McCall Collins.

Throughout a storied career of over 60 years, Collins focused on the Civil Rights Movement, political corruption and investigative reporting. A product of the prestigious Laurinburg Normal and Industrial Institute, Laurinburg, North Carolina, George Collins pursued work and educational opportunities in Stamford, CT, prior to military enlistment. He attained the rank of Sergeant in the Army Air Corp. Upon completion of his duties in Wichita Falls, Texas, in 1947, he began as a reporter for The People's Voice, founded in New York by Adam Clayton Powell. He later joined the Afro-American Newspapers in Baltimore, Maryland, where his reporting included coverage of such historical events as the March on Washington and the assassination of President John F. Kennedy.

His journalistic career became a mission, in which he, by his words, his deeds and his sterling example, waged a gallant crusade for freedom, justice and equality. Ironically, his chosen field of endeavor suffered the same race-based malignancy of the nation it chronicled. Undaunted, he pursued his craft in the heightened social consciousness of a Civil Rights Movement that enabled an emerging black press to impose its will on the mainstream media marketplace. This setting gave rise to a young reporter, intent on exposing the absolute truth and eradicating versions of it that denied full citizenship rights to the nation's minorities.

The passionate South Carolinian exploited opportunities throughout the sixties to attack the institution of racism. In 1961, his response to President John F. Kennedy's outrage at refusal of Maryland restaurants to serve African Diplomats, made history. Seizing the untapped power of media to expose American bias and hypocrisy, he energized the local civil rights effort by leading the "Route 40 Caper." In this clever ruse, Afro-American Newspaper reporters, dressed as African Dignitaries, visited US Route 40 restaurants to document continued service denial. Interestingly, the Afro-American "delegation" duped "white-only" restaurants into providing complete restaurant access and food service; privileges denied black Marylanders at the time. This unprecedented act of bigotry triggered a national response, resulting in passage of new public accommodations laws in Maryland within two years.
Mr. Collins' civil rights reporting also included award winning coverage of Gloria Richardson's Cambridge Movement and National Guard deployment by Attorney General Robert F. Kennedy-Cambridge MD-1963; Medgar Evers' murder in Jackson, MS-1963; Bill Moore's Postman March & Murder, Attalla, AL-1963; The Schwerner, Goodman & Chaney murders, Philadelphia, MS—1964; Stokely Carmichael's Black Power Movement and Emergence with The Student Non-Violent Coordinating Committee (SNCC)-1964; Louise Hicks' Anti-Civil Rights Movement vs. The National Association for the Advancement of Colored People (NAACP) Boston, MA—1965; Black Nationalist, Malcolm X, NY,NY—1965. George Collins had a stentorian presence perfectly calibrated for the turbulence of the Civil Rights Movement. It assured elevated standards of diversity and integrity in an industry historically lacking both.

A tenacious investigative reporter, he was unrelenting in bringing wayward state, county and municipal officials to justice, as misdeeds compromised their public service commitments. In a tribute to his character, vanquished political antagonists, Governor Spiro T. Agnew and Baltimore County Executive, Dale Anderson, voiced frustration with his aggressive pursuit of facts in their respective cases, but expressed admiration for his commitment to fair reporting and professionalism. Skin color may have partially identified the man; however, impartial judgment fully defined his work. His brand of journalism is etched into the community's consciousness.
As anchor and associate editor at WMAR-TV 2 News, then a CBS affiliate, Collins established himself as the first African American television journalist based in Baltimore. During his twenty-year tenure he was a prime-time anchor, news editor, investigative reporter, political analyst and editorial director. He was executive producer and moderator of Man-to-Man and Straight Talk, two "hard-hitting" programs aimed at substantive issues in the black community.

He spent the last decade of his career as host of @Issue, a live, one-hour weekly program heard Thursdays on Morgan State University Radio, WEAA-88.9FM. The program explored provocative and profound issues having both a direct and indirect impact on quality of life as seen through the eyes of the Black Experience. His commitment to MSU went beyond its broadcast capabilities, as all four children and two sons-in-law graduated from the institution.

Fittingly, he has received numerous awards, acknowledgements and commendations in recognition of extraordinary media achievements, industry and community contributions and career milestones. Mr. Collins garnered national recognition for his coverage of funerals for Dr. Martin Luther King, Jr. and Robert F. Kennedy in 1968. In 2003 he was jointly cited by the Library of America, the National Committee for Excellence in Journalism and the Smithsonian Institution as "one of the best American journalists of the 20th century."

While gracious in accepting numerous and well deserved accolades, he was quick to qualify these honors as barometers of active engagement; not indicators of goal attainment..."Not as long as injustice compromises quality of life and second-class citizenship threatens the nation's underserved communities." Mr. Collins felt obligated to make his readers, viewers and listeners more socially aware, politically astute and personally responsible. He routinely exploited the First Amendment of the Bill of Rights to assure access to the other nine.

Away from "news cycle" demands, GWC was a devoted husband to the former Eloise J. Ross and father to their four children. Family time was spent dispensing unmeasured doses of love and laughter, giving valuable counsel, soliciting opinions, telling great stories and sharing experiences from history he recorded and to which he actually contributed. It was a role he cherished and one at which he excelled. Further, it prepared him for the legendary status he would achieve as Grandfather.

Three granddaughters; one grandson; one great-granddaughter; One Instant Love-fest! This quintet knew, from the very start, there was something different about the man they affectionately called "Pop-Pop." Hanging out with him was always a granddaughter, given his penchant for taking the grandkids everywhere. Destinations didn't matter…the State House, City Hall, the Courthouse, a museum, a hospital, a college campus, a police station, a crime scene, a press conference, the stadium or a restaurant…always something to be learned and a memory to be made. And always, always… someone who knew Pop-Pop; recognized him or just thanked him for doing work that helped so many people. They consider it cool that people always talked about the great things he did, but to Mandisa, Zachary, Vashti, Tabitha and Khadijah, he was just Pop-Pop!

His forty-one year membership at New Shiloh Baptist Church was foundational to a man whose upbringing equipped him to meet triumph and tragedy with assuredness and spiritual certainty. Mr. Collins' special kinship with Pastor Harold A. Carter Sr. was anchored in their commitment to and respective leadership roles in "the movement." They linked circles of influence to maximize the reach, penetration and impact of "A Church Determined To Live With Christ." Mr. Collins took great pride in his role as a Deacon and valued the strong presence of men in numerous ministries of the church. He was an invaluable advocate, often speaking at Prayer Breakfast, Anniversary and related church and community calendar events.

He is survived by his wife of more than 65 years, Eloise Ross Collins; four children, Barbara C. Rhodes (Warren) of Dover, Delaware, Ronald B. Collins (Sylvia) of Chicago, Illinois, Vanessa C. Pyatt (James) and Valerie D. Collins both of Baltimore; four grandchildren, Mandisa A. Rhodes-Trower (Christopher) of Dover, Delaware, Zachary P. Collins, of Barcelona, Spain Vashti E. Pyatt and Tabitha D. Pyatt, Baltimore; one Great-grandchild, Khadijah A. Trower, Dover Delaware; four Brothers; David C. Collins, of Detroit, MI, Benjamin F. Collins, Bishop Floyd D. Collins (Barbara) Nathaniel N. Collins of High Point, NC; one sister-in-law, Ms. Leah Collins of Detroit, MI and a host of nieces, nephews, cousins and friends.
For additional information about this scholarship, contact The School of Global Journalism and Communication at 443-885-3330.
Scholarship Winners:
Fall 2016: Akira Kyles

Fall 2017: Akira Kyles, selected for POLITICO Journalism Institute class – Read More!

Fall 2018: Faith Seawell